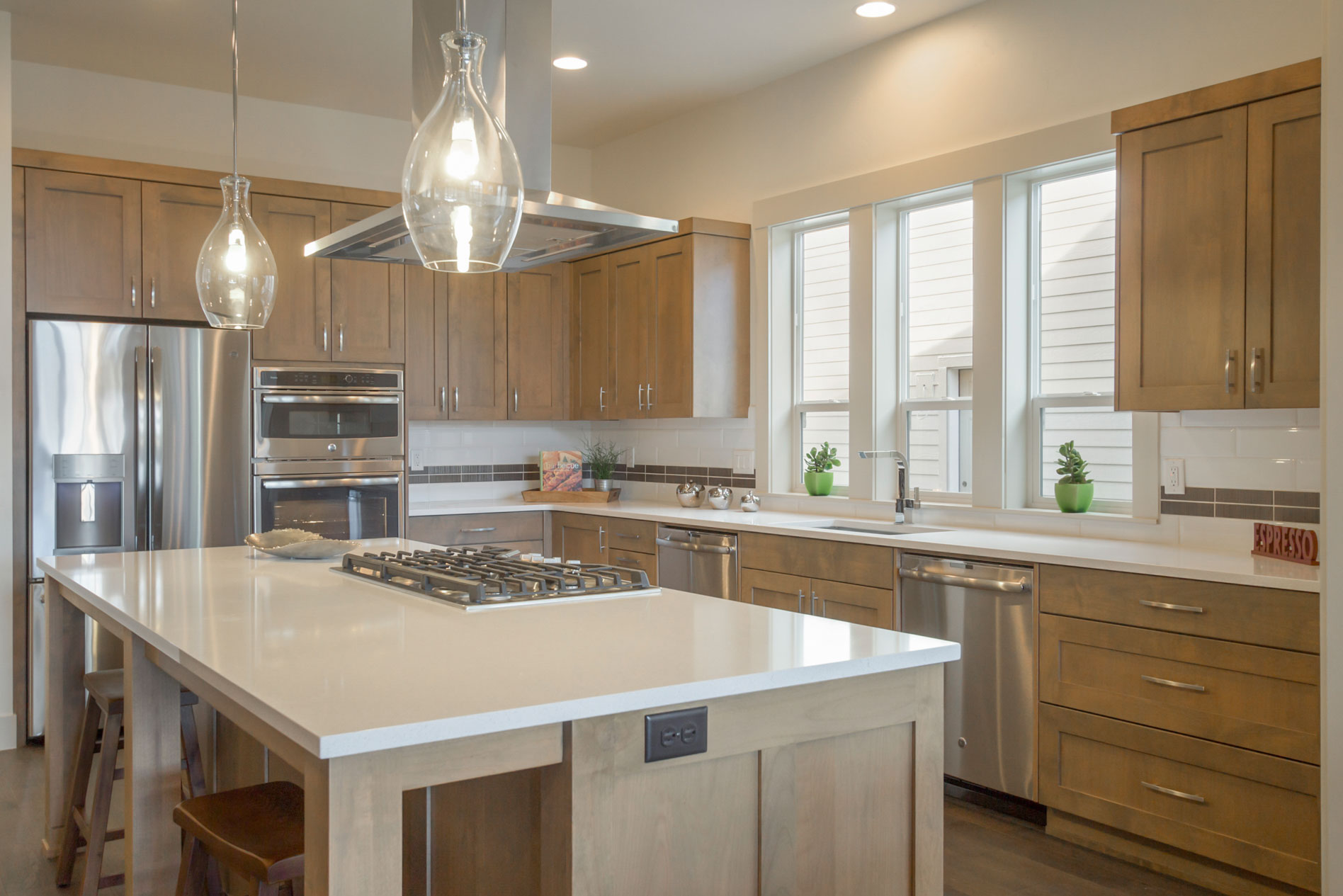 A well-planned kitchen is essential for cooking delicious meals and creating memorable moments with loved ones. Whether you have a large space to work with, or something more intimate, there's sure to be the perfect layout out there to suit your lifestyle needs. From cozy galley kitchens that draw on storage solutions of the olden days, right up to sprawling contemporary designs – here's a look at some of the most common kitchen layouts.
The Work Triangle Design Principle
When crafting a kitchen layout, having an ideal guideline is essential to ensure ease of use and maximum functionality. The work triangle, also known as the "golden triangle," provides a handy structure for optimal usage of space between your stovetop, sink, and refrigerator.
Here are the general principles of the kitchen work triangle:
The length of each triangle leg must be between four and nine feet
The combined length of the three legs must be between 13 and 26 feet
No appliances or cabinets should intersect any of the legs of the work triangle
No major traffic patterns should cross the triangle
While not all kitchen layouts will perfectly fit into this configuration, there are several popular options that have been adapted around these principal guidelines in order to make them suitable for different sizes and shapes of home kitchens.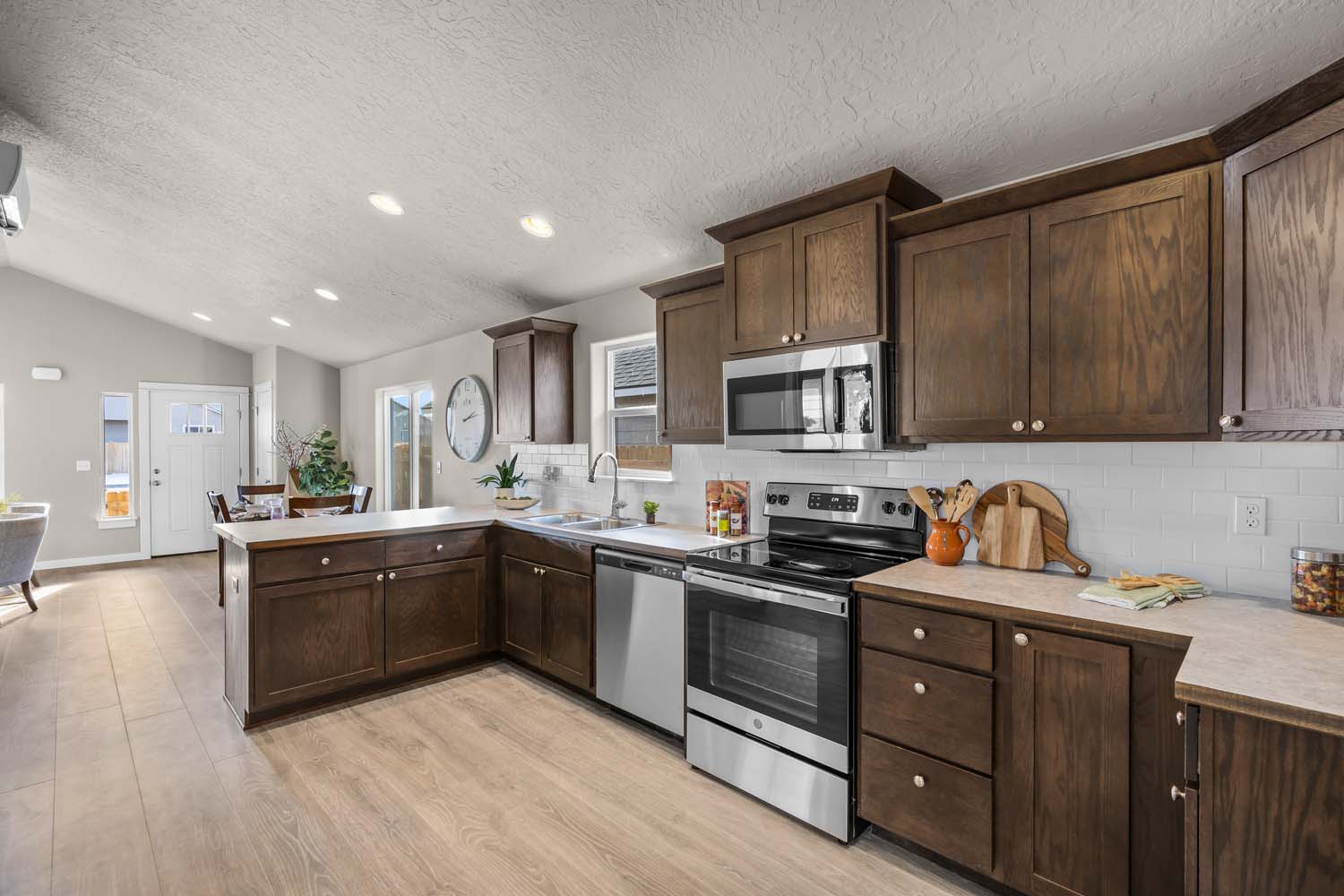 One-Wall Kitchen
Also known as a straight line or pullman-style kitchen, this layout consists of all the cabinets and appliances arranged in a single line along one wall. This type of layout is popular in small or narrow kitchens since it maximizes space efficiency while allowing for easy movement around the kitchen area. You'll often see overhead cabinets in this type of design to increase storage options.
Galley Kitchen
This type of kitchen features two parallel lines of cabinets and countertops on opposite walls with an aisle in between them that allows for easy movement from one side to the other. This type of layout is ideal for medium-sized kitchens as it doesn't take up too much space but still provides plenty of functional room to work within a confined area. The downside is that there may be less natural light than with other types of layouts due to its narrow shape.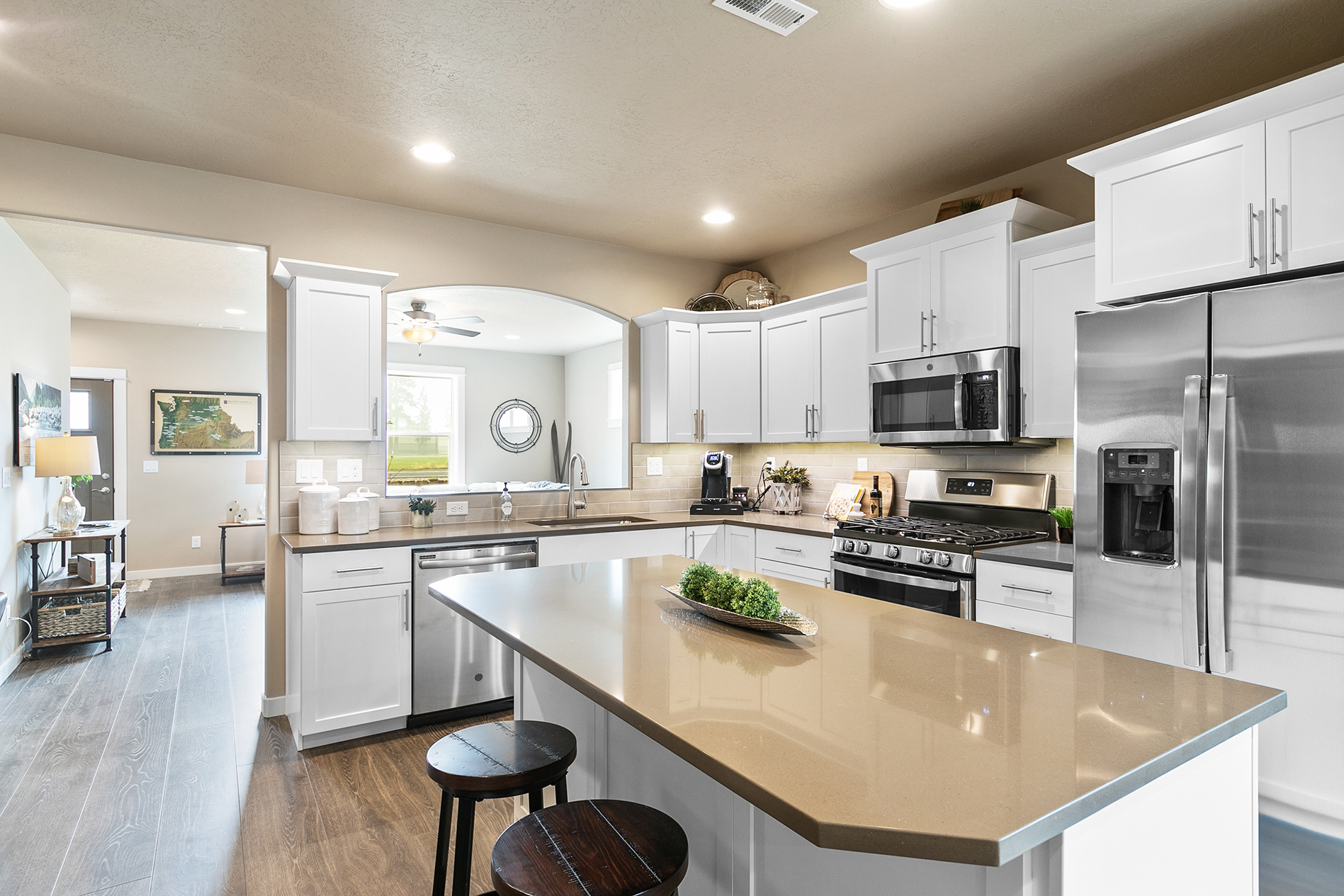 L-Shape Kitchen
As its name suggests, this type of layout consists of two lines forming an L-shape that creates a corner workspace where two people can work without getting in each other's way. This type of layout is perfect for any size kitchen. The L-shaped kitchen offers plenty of countertop space and allows you to install multiple appliances such as dishwashers, ovens, refrigerators, etc., while still providing enough room for movement and flow within the kitchen area.
U-Shape Kitchen
A U-shaped kitchen features three walls lined with cabinets and countertops creating a U-shape around an open central workspace that makes it easier to move around while cooking or cleaning up after meals. This type of layout is great for larger kitchens as it provides plenty of storage options and enough countertop space for multiple cooks or large families who need lots of room to prepare meals together without feeling cramped or crowded in the process.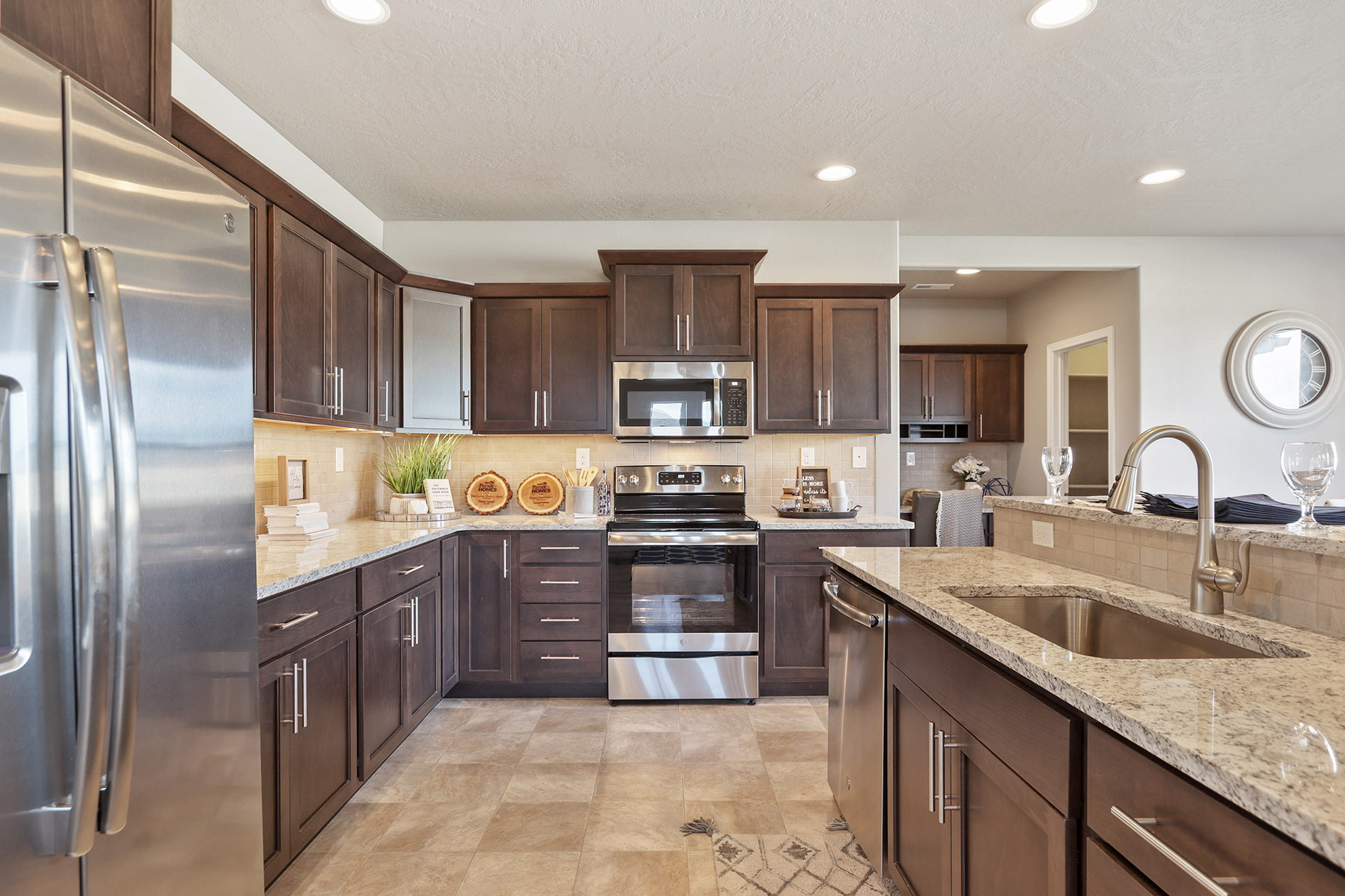 G-Shape Kitchens
G-shape – or peninsula – kitchens are the perfect blend of form and function. With its U-shaped layout, connected island, and open feel, it is growing in popularity for those wishing to make better use of their space. Unlike an independent kitchen island setup, peninsulas offer easy access to all working areas while still providing plenty of room within reach during food prep or mealtime conversations. G-shaped layouts provide just what you need: optimal design with minimal effort.
Island Kitchens
An island kitchen features an additional surface located either in the middle that serves as extra countertop space and/or storage solutions depending on what your needs are. The island kitchen is a great way to make the most of an open-plan home – it's both functional and stylish. It offers plenty of space for all kinds of activities, from prepping meals, cooking, or washing up to even socializing with family and friends. The island's central positioning makes it perfect as a traffic controller in the busy heart of your kitchen too.
Kitchen layouts play an important role when building your new home so it's important to understand what your needs are before making any decisions about what type would work best for you. Whether you're looking for something compact like a one-wall layout or something bigger like a U-shaped design, there's something out there that will fit your lifestyle perfectly!
You'll find most of these kitchen layout options in our home plans. With Simplicity, you're able to choose from dozens of home plans, personalize your home to your needs, and experience exceptional value. From initial land research to your move-in day, we're here to support you and make building your future home a positive and stress-free experience. Discover the Simplicity difference.