Buying a new home is a very exciting process. Perhaps even more exciting than buying something new is building something new, which puts you in charge of exactly where you want to live and precisely what you want to see in your brand new home. But rather than going to the bank and applying for a typical mortgage loan, potential home builders will need to secure a new home construction loan.
Here's an overview of the what a home construction loan is, and how much you'll likely need for a down payment.
New Home Construction Loan: What's That?
New home construction loans are a little bit different than your typical home loan. Basically, construction loans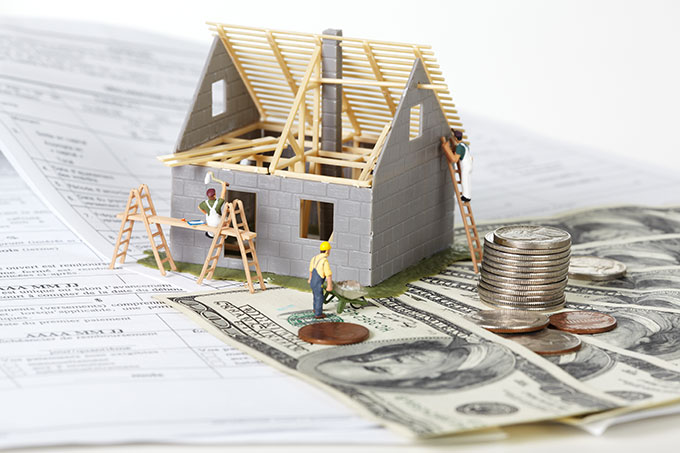 are short-term loans designed to pay off the construction of a new home, with a term of one year. Because these loans typically last for one year (and it's not expected that the borrower will pay off the loan in that time frame), the borrower will take out a permanent loan to pay off the construction loan. This occurs at the end of the short-term construction loan. Normally, this will be a traditional 30-year mortgage loan. Make sense?
In other words, the bank finances the build, and as soon as it's done, they roll it into a 30 yr fixed loan. You only close once. Simple as that!
Like any loan, the interest rate on a construction loan will vary depending on a number of factors like your income, credit report, debt to income ratio. Additionally, your new home construction loan lender will need to understand some basic information specific to the construction process such as construction costs, the land deed and the contractor's license. We can help guide you through this process.
How Much Down Payment Do I Need?
Okay, so now that the basics of what a construction loan does have been covered, how much of a down payment is necessary for a construction loan?
The common assumption is that you'll need between 20 and 25 percent to put down on a new home construction loan. While that may be true in some cases, one of the great benefits of working with Simplicity Homes is that you have access to our preferred lenders who, we like to think, are the best in the business when it comes to new home construction loans.
One of our preferred lenders is currently offering a 10% down loan program. This program applies to both primary or secondary home financing and includes construction and permanent financing with a single closing.
Another one of our preferred lenders is currently able to finance up to 95% LTV! Give us a call to go over more financing options. It's a great time to build!
Securing Financing through Simplicity Homes' Preferred Lenders
When you secure financing through Simplicity Homes' preferred lenders, not only can you capitalize on great rates, but we will walk you through the entire financing process from start to completion of the project.  We are here to help you get into your dream home as quickly and smoothly as possible.
If you are interested in building a brand new home in Washington, Oregon, or Idaho, our northwest home builders at Simplicity Homes can help. We can refer you to one of our preferred lenders, and can promise you that when you work with us, the price is the price – we are open and upfront about our prices, and any additional costs you may encounter during the process.
If you're looking for attractive plans for your dream home, whether you are building a second home or buying your first custom home, we can help. We have home plans that you'll love – contact us today to learn more.