If you're thinking about relocating, whether for a job or just a change of pace, there are a lot of things to think about. Relocating can be a big decision, especially if you're bringing a spouse and kids along with you. Here are some things to consider before you commit, as well as some factors that may influence your decision about the area to which you relocate.
Seasons and Weather
 One thing that you should think about when relocating – and something that can have a big effect on your quality of life – is the weather and how well that aligns with your lifestyle. In the northwest, we have four seasons, which many people enjoy because it provides variety year around. So whether you like to ski on water or snow, you can do both in the northwest – and comfortably.
Entertainment and Recreation
 The entertainment and recreational opportunities available in the area to which you'll potentially move matter, too. Things like dining, arts, theatre, or outdoor recreation, you'll probably want to look into as well as any other offerings the city or area offers like splash pads, water parks, public parks and libraries. This may be especially important if you have kids.
Schools and Crime Rates
Two of the most important things to think about if you have children are the quality of the schools in the neighborhood you plan on living in and the crime rate. Obviously, the higher the quality of education and the lower the crime rate – especially violent crime – the better. The northwest offers good education and boasts low crime rates. Some of our locations have been named among the best places to live and raise a family.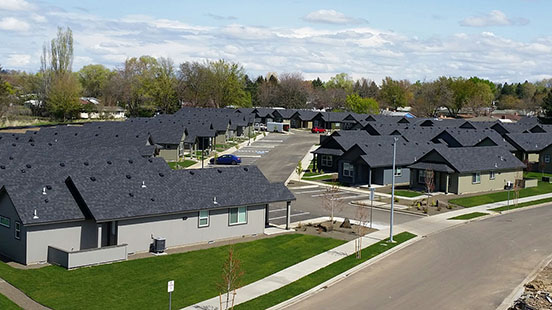 Housing: Value and Availability 
You'll want a place you can both love and afford. You can use online tools, like Zillow.com, to check out the housing market in the area in which you want to live to see what new homes are going for. Simplicity Homes is building brand new homes in cities across three states – Washington, Oregon, and Idaho – at affordable rates.
Do You Like the City? 
Finally, before you relocate, make sure you ask yourself whether or not you like the city you're going to move to. This may depend on many of the things above (like entertainment options), traffic and commute times, air quality, natural beauty, dining, and the overall culture. Don't relocate or buy a new home unless you're confident it's a place you'll love.
Looking for a new home? 
If you're looking to buy or build a new home, we can help. We have beautiful, affordable homes for sale throughout the Northwest, and want to help you find your dream home. We work with you whether you're buying your first home, relocating, or upgrading your life. Call us today to learn more.