The holidays bring us happy memories, parties, festive decor and gifts from those we love. After the busyness of the season dies down, many realize that the new holiday decor items and gifts they have acquired do not have a place. Some of these new items are large, bulky and take up a lot of space. Or you might have some newly acquired belongings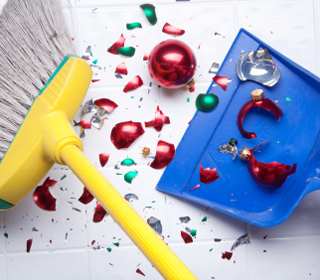 you are struggling to find a place for. No matter how big or small your home is, finding a spot for things is all about organization and innovation. Here are a few tips for bringing order and peace to the clutter piling up after the holidays.
1 – Declutter
You might have heard the saying "get one, toss two." It's easy to become a pack rat if you keep and save everything you ever get. One easy way to keep the clutter at a minimum is to adopt this principle. Look around your home and find things you have not used in the last 6-12 months. Do you really need that item? Donate it to goodwill or simply chuck it. There is freedom and liberation when you declutter. If there are holiday items you dislike or never use, it's time to get rid of them.
2 – Basket and box like items
It is really hard to find anything when there is no order. Storing similar items together so you can find them helps keep your sanity. For instance, box all the Christmas tree ornaments, outdoor holiday lights and Christmas living room decor in their own, separate bins and better yet, label these bins so you can find them easier next year. Do this all over your home to make life easier.
3 – Add shelving
With all these bins helping you stay organized, finding a place for these containers is the next step. Putting shelving in your basement or garage is a better idea than in prime storage areas like frequently used closets. Adding a ceiling shelf in the garage is a great place to store the bins for your holiday decor. It keeps them out of the way until you need them next year. You can build your own or purchase ceiling shelf kit. Ceiling shelves are also a great place for oversized yard decorations like inflatables or reindeers.
4 – Take notes for next year
Inventory what you have as you pack it away so you don't accidentally buy a duplicate item. It's easy to forget what you have since you only see it once a year. If you like sending Christmas cards, save all the cards you received in a container with the corresponding addresses attached to make sending cards next year that much easier.
5 – Organize wrapping supplies
This one is very important as the rolls of wrapping paper, gift bags and bows can grow each year. Find long, narrow wrapping paper containers to keep the paper safe and nice. Another container for bows, gift bags and ribbon is a great idea too.
---
Simplicity makes it easy!
Start off the new year fresh – and with an organized home, because it is proven that the more order your life has, the happier you will be. If  its time to upgrade to a bigger home, Simplicity is here for you. Whether it's your first home or you are ready to build your dream home, our team is happy to help you find the right home plan for your needs. Call us today or click here to begin building your new home in 2017.