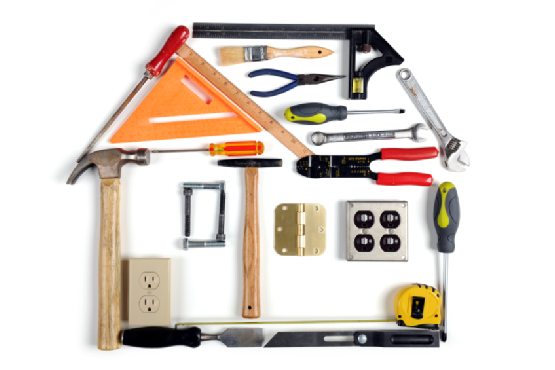 If you are moving out of an apartment and into your brand new Simplicity Home, you might be wondering what tools you will need. If something breaks in an apartment or a rental, you call the landlord and wait for them to come and fix the problem. As a homeowner, you have the opportunity to alter your home as you see fit and you can do it immediately. Here are a few of the tools you might want to have in your new home toolkit.
Tape Measure: Whether you want to put up pictures, hang mirrors or finish your basement, a tape measure is a necessity. Don't skimp, buy a good one the first time and it will last for a long time. To make your life easy, consider getting a tape measure that has measurements on both sides of the tape.
Level: If you want to your pictures and shelves to look right, you are going to need a level. Level objects are more appealing to the eye. If you want to make hanging groups of pictures a breeze, you might want to invest in a laser level. Laser levels shine a line across the entire wall.
Hammer: Whether you are hanging décor or undertaking small construction projects like framing, a hammer is an absolute must. For most tasks around the house, a lightweight, smaller hammer will do the trick. For framing and larger projects, you'll want a framing hammer. They are heavier, but can drive framing nails into studs with more ease. Framing hammers have the clawed teeth on the opposite side of the hammer end. This allows you to remove nails as well.
Cordless Drill: While screw drivers are inexpensive and versatile, a cordless drill is going to save you a lot of time and energy. They're a must have item for driving long screws into studs. A nice feature to have on your new cordless drill is a light. When you are in poorly lit places, the light will help you see the screw and the surface you are trying to work on.
Circular Saw: If you have any projects in your new home that you are planning on doing like, shelving or finishing a basement, you will need at the very least a circular saw. With the right techniques, most homeowners can get away with just a circular saw. However, if you plan on putting up and trim or crown molding, or if you just want good, clean edges on your woodworking projects, a miter saw (chop saw) and a carpenter's square will help you get all of the cuts you need. If you do buy a miter saw, get the sliding miter saw. You'll thank yourself.
Lawn Mower: With a new home comes yard work. You are going to have trees, bushes and vegetation, but most importantly a beautiful new lawn to enjoy. Some enjoy electric mowers, while others insist on gas powered mowers. Much of it depends on the size of your lawn, your ability to maintain a gas powered mower and whatever feels more comfortable to you. We recommend handling a few different types of good quality mowers before making a decision.
---
Build your home online with our Instant Quote tool!
Having the tools above will allow you to perform basic improvements to your home. Using our Instant Quote tool allows you to build a home online with accurate, immediate pricing! With nearly 30 years of home building experience, Simplicity by Hayden Homes is dedicated to helping you design and build a home that is perfect for you.