Regular home maintenance is vital to the longevity of your home. Being a long-term investment, you want to keep its appearance, structural integrity, and value up to par. By caring for your home now, it will cost you less money overall by reducing damage and repairs while increasing your home's value.
We've compiled a list of the top ten fall home maintenance tips to get you started on prepping your home for the cooler, damp months ahead.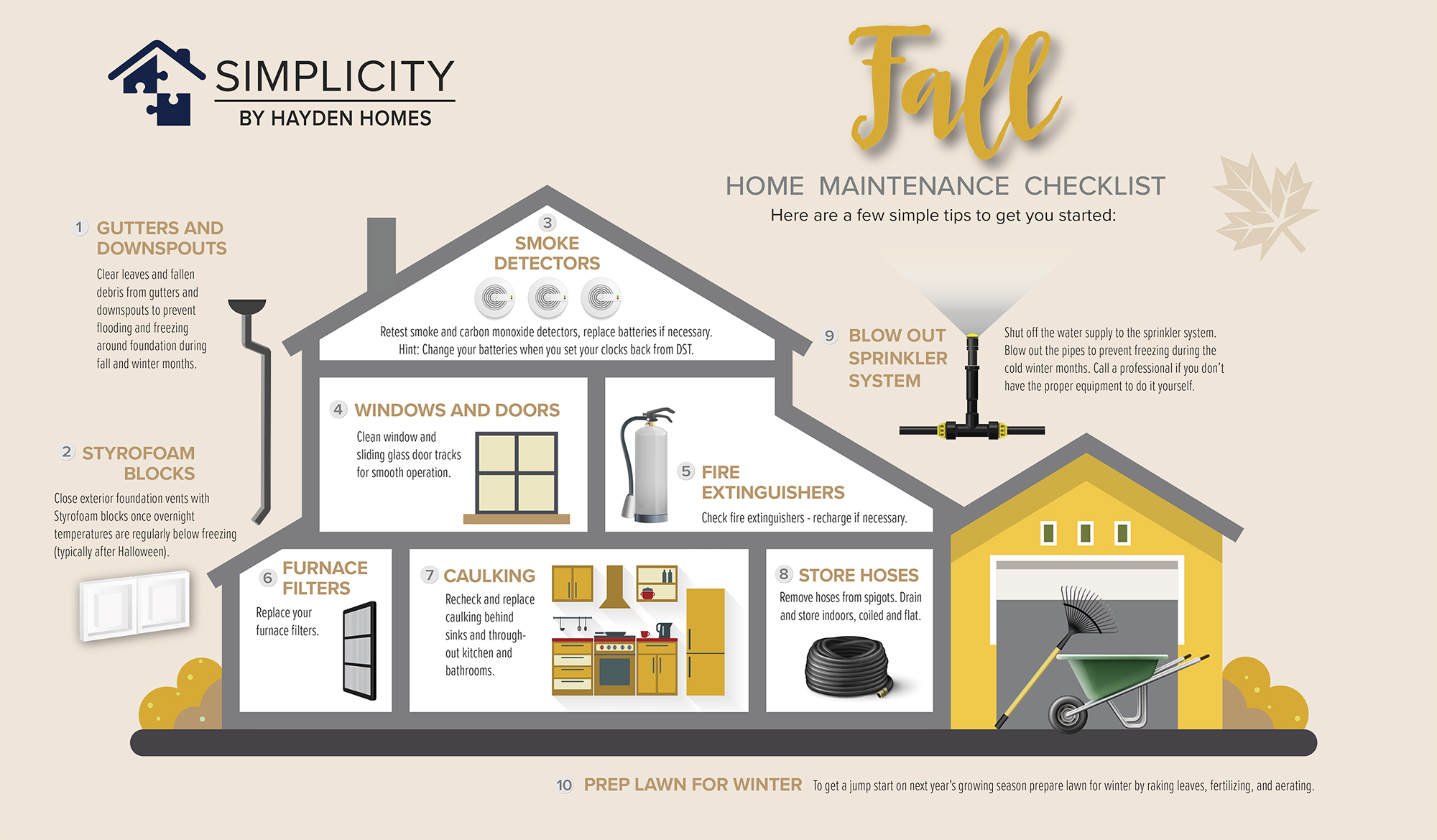 Gutters and Downspouts
Clear leaves and fallen debris from gutters and downspouts to prevent flooding and freezing around the foundation during fall and winter months. Clogged gutters can leave rainwater with nowhere to go, and it may also damage your roof by creating rotten spots where leaks will occur.
Styrofoam Blocks
Close exterior foundation vents with Styrofoam blocks once overnight temperatures are regularly below freezing (typically after Halloween). These blocks are easy to find at any local home improvement or hardware store and are an inexpensive way to save on your monthly heating bills.
Smoke Detectors
Retest smoke and carbon monoxide detectors and replace batteries if necessary. Regular testing provides peace of mind for your family's safety. Hint: Change your batteries when you set your clocks back from Daylight Savings Time.
Windows and Doors
Clean window and sliding glass door tracks to remove the build-up of dust and pollen from the summer months to allow for smooth operation. It may seem like a daunting task to clean these small spaces, but it only takes a few simple steps. First vacuum out any loose debris or insects, then sprinkle baking soda into the tracks, spray an equal parts water and white vinegar solution to saturate the baking soda and after 5-10 minutes, wipe with a clean paper towel.
Fire Extinguishers
Check fire extinguishers and recharge if necessary to ensure they are in working order if needed in an emergency.
Furnace Filters
It's time to change your furnace filters to prevent dust, dirt, mold spores, bacteria, and allergens from building up within the air of your home. The life cycle of your furnace and its efficiency is also affected by the replacement of air filters.
Caulking
Recheck and replace caulking behind sinks and throughout kitchen and bathrooms. Caulking keeps moisture out of the countertops and cabinets where mold can build up.
Store Hoses
It's essential to remove hoses from spigots to avoid pipes freezing and bursting. Drain and store your hoses coiled and flat indoors.
Blow Out Sprinkler System
Shut off the water supply to the sprinkler system. Blow out the pipes to prevent freezing during the cold winter months. Call a professional if you don't have the proper equipment to do it yourself.
Prep Lawn for Winter
To get a jump start on next year's growing season, prepare your lawn for winter by raking leaves, fertilizing, and aerating.
With winter quickly approaching, now is the best time to get started on your fall home maintenance. Performing these tasks will prevent costly repairs, and they will keep your home healthy for years to come. If your home maintenance list has gotten too long and you're looking to build a new affordable home in Oregon, Washington or Idaho, contact us to see how we can help.