For growing families, choosing a home that will be ideal for raising children is important. At Simplicity, we have an extensive selection of home models designed with young and growing families in mind. As you peruse plans, keep in mind these features that make a home perfect for families that want to grow in comfort and safety.
Flex Space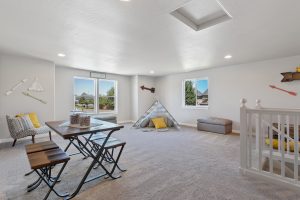 Space is typically the most important thing for families who want to increase in size; a one or two-bedroom home likely will not comfortably accommodate a family of three or four plus. But bedrooms alone are not the only space consideration – bathrooms, storage and flex space are all things to be thinking about. Children need dedicated play areas to let out some of that pent up energy, and you need dedicated storage areas where kids can put their toys away after they are done playing with them.
As you compare our new home layouts, think about flexible space. Flexible space refers to an area in a home that can be used for a variety of different purposes as your family's needs evolve. For example, a space may be used as a toy room, or play area, while your children are young, and as a study den/library as they make their way through the school years.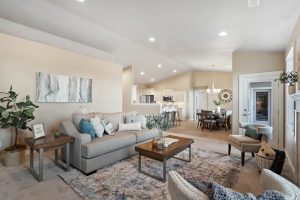 Safety Features
If you have little ones running around, you want to make sure that your home is as safe and as kid-friendly as possible. Some great safety features that our new homes incorporate include:
Open layouts, which allow you to more easily keep an eye on your kids;
Plenty of cabinetry to make sure that sharp tools and kitchen appliances/cutlery are stored out of reach;
The best in fire and carbon monoxide detectors;
Advanced alarm systems;
Smart home systems;
New electric wiring systems (reducing fire risks); and
Structures that are always built to code.
Location
It's not just about what is in your home – it's about where your home is located, too. If you plan on expanding your family, living in an area where you feel comfortable and "at home" is important. Things like amount of traffic, whether or not there are other kids in the neighborhood, parks are nearby, or a great school that is only a short distance away is ideal. For many parents, location matters just as much as the home itself does. Luckily, when you buy from Simplicity Homes, you can get the best of location and the best of a new, custom home with all of the latest and greatest in family-friendly features.
---
At Simplicity, we have attractive and flexible new home plans that are absolutely perfect for young families. We look forward to helping you find a home plan that's big enough for everyone, safe for young children, and has the features that will help you and your family grow throughout the years.