Since 2009, Simplicity by Hayden Homes has been building award-winning homes throughout the Northwest from its headquarters in Redmond, Oregon. Dedicated to providing an unparalleled customer experience, Simplicity strives to build value driven, high quality homes.
Simplicity is an on-your-land homebuilder, meaning we build on land the customer already owns. Offering a broad range of residential housing options from custom homes to tiny homes on a customer's existing land, Simplicity also constructs farmworker housing units and provides investor building solutions that range from ADUs and cottage communities to single-family subdivisions and multi-family projects.
Want to learn more about Simplicity for a publication or blog article? Call our marketing department via the info below.
Press Contact
Amanda Lenke, Marketing Manager
alenke@simplicity-homes.com
541-238-7813
---
April 7, 2017
Smaller Homes, Bigger Market
As dream homes evolve beyond big houses on big lots, local developers work to cater to the needs of modern homebuyers
Living closer to amenities, enjoying less upkeep, taking pride in a smaller carbon footprint and lower
energy bills, or just enjoying more family camaraderie. Whatever buyers of smaller homes have in mind, developers and realtors in the Inland Northwest are ready to make those dreams a reality.
Prominent local developer Greenstone, responsible for Kendall Yards, is already catering to those downsizing into new homes, but realtor Randy Wells notes that local demand — fueled in part by younger families — for more adequately-sized residences that are also near amenities like shops and parks, is continuing to outpace supply.
On a regional level, some developers have created unique brands that directly address the myriad ways that individuals, couples and families might downsize into new or custom builds. WiseSize, for example, is part of the Simplicity division of Hayden Homes. It specializes in kit homes that come in various sizes — 400, 680, 880 and 1,064 square feet — and can be placed on existing parcels of land. Depending on location, the house prices start at just $47,990 — less than the average down payment on a conventional home.
"We build traditionally constructed structures, but we make them small, compact and efficient," says Amanda Lenke, marketing manager for Simplicity. She points to their single-level starter model as an example of how radically they can shrink the footprint while retaining archetypal house features: "It looks just like a little cottage house with Craftsman trim on the outside, traditional roof, stem wall construction, the whole nine yards. You get a living room, kitchen, bedroom and bath with utility hookups. We make it feel as spacious as possible with tall ceilings, and by offering room for a king-sized bed and two nightstands, which you're never going to get with a tiny 'tiny' house."
WiseSize's scaled-down houses have piqued the interest not only of downsizers, but also of buyers looking for investment opportunities such as vacation rentals. In 2016 the company sold a modest 70 homes, yet that number represents year-on-year growth that Lenke anticipates will continue as the niche market expands.
"Our motto is 'Live big in a tiny house.' Basically, by downsizing, you can live better and in more quality ways. A lot of people's self-worth is wrapped up in how many things they have. What I see our customer appreciating is that once you get rid of the stuff and you switch your paradigm to the quality of the life you're living, it just makes for a happier person. You're saving tons of money on utilities, which means you probably have to work less, which means you can enjoy life more. You can spend your time, money and energy doing other things," she says.
Andrew Morrison echoes those sentiments. A leading proponent of the 'tiny house' movement, he's representative of what is perhaps the terminus of downsizing: compact 200- and 300-square-foot homes capable of being towed and outfitted for off-grid living. Not quite RVs, not quite miniature cabins, his high-quality hOMe models are sold as plans that buyers can then customize according to their needs and tastes.
At the workshops he hosts to provide information on building, financing and siting hOMes, Morrison says that he's seeing a "very diverse group" and attendance that is "growing exponentially."
"We have students who are just coming out of college, or in some cases are still in college but don't want to pay for housing … all the way through to families and retirees. It really covers the gamut," he says, while admitting that he would prefer to see a broader spectrum in terms of ethnic diversity, because the major factors behind downsizing are so universal.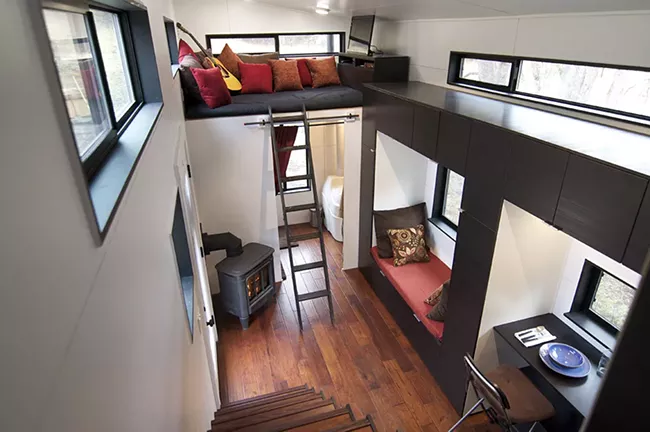 "Everyone's challenged by housing. The cost of housing in the U.S. is out of control, and the size of housing is out of control. In the last, say, 40 years, housing has gone from fairly reasonably-sized houses to the point where we have the highest square-footage houses in the world on average: 2,600 square feet," says Morrison.
"The cost is off the hook in most places. The average down payment for a house is $50,000, and then you get to pay for it for 30 years. The average American spends 27 percent of their income on just the cost of paying for their mortgage or their rent. And then you get into at-risk populations where you're looking at lower-income families, and they spend up to 50 percent of their income [on housing]. Which leaves nothing for food and clothes and education and anything else you might need."
As housing costs become a "catalyst" for downsizing, according to Morrison, the tiny home movement is seeing an explosion of choice and creativity, best showcased in enthusiast publications like Tiny House magazine. Even in a 250-square-foot home, it seems, there's ample room for imagination.
"What they provide is a fierce simplicity. It meets all of our needs, in a very small space at a very low cost and hardly any upkeep. Tiny houses on wheels have the same benefits, but they also provide flexibility of movement," Morrison says, which satisfies the needs of the emerging gig economy, changing costs of living and basic wanderlust.
While quick to highlight the benefits, both Morrison and Lenke aren't afraid to note that there are caveats to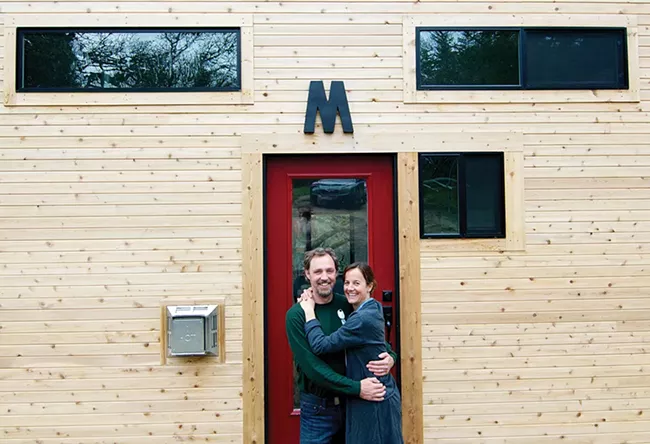 downsizing. Some of these — like where to store the Christmas decorations or camping gear — are obvious from the outset, whereas others, like a new addition to the family or a change in health status, might only become apparent over time.
However, for those who accept that even large houses come with their share of compromises, embracing downsizing could lead to a healthy shift in priorities that allows for more free time, more disposable income and less stress.
"I've never had anyone come back and say, 'Oh, gosh, this was way too early for us to do this.' I don't remember anyone expressing regret," Spokane Realtor Randy Wells says. "Everyone has been happy. It's just what you become used to. If they have the mindset of simplifying, they just go, well, that's part of downsizing."
---
December 12, 2016
Simplicity and Hayden Homes Donate Wheelchairs to 50 Veterans
In what was part team-building exercise and part philanthropy project, team members of Central Oregon based Simplicity and Hayden Homes worked together on Veterans Day to build 50 wheelchairs for Northwest veterans facing mobility challenges.
Approximately 270 Simplicity and Hayden Homes employees from across the Northwest gathered on November 11,
2016 to participate in the Build-a-Wheelchair® event, a team-building social responsibility program born out of a desire to help American veterans with mobility challenges. Small groups of team members worked together to assemble, test and decorate the new wheelchairs before engaging in an obstacle course maneuverability challenge.
"It's not by chance that our team members are a generous group of individuals," said Steve Klingman, president of Hayden Homes. "We're committed to hiring people who believe that a fulfilling life starts with the spirit of generosity. When we unveiled the wheelchair-building challenge, our team members enthusiastically rolled up their sleeves to help make life a little easier for deserving veterans who may be struggling back home."
After completion, the 50 wheelchairs were distributed to five Northwest regions in which Simplicity and Hayden Homes do business, including the Willamette Valley, Central Oregon, the Tri-Cities/Walla Walla area in Washington, the Spokane and Coeur d'Alene areas in Washington and North Idaho, and the Treasure Valley in Southern Idaho.
Simplicity and Hayden Homes then partnered with local veterans outreach and advocacy groups in each region to identify 10 veterans in need. According to Disabled American Veterans, the number of veterans with service-related injuries and illnesses has skyrocketed to more than 3.6 million men and women today, up from 2 million just 12 years ago. By the year 2020, the number is expected to grow to 4 million.
---
August 31, 2016
FOR IMMEDIATE RELEASE
Media Contact: Amanda Lenke, Simplicity by Hayden Homes, 541-238-7813, alenke@simplicity-homes.com
KEN BRODECK NAMED PRESIDENT OF SIMPLICITY BY HAYDEN HOMES
As GM of Simplicity since 2011, Brodeck has overseen triple-digit growth for Northwest home builder
August 31, 2016 – (REDMOND, Ore.)—After presiding over five years of rapid growth at Simplicity by Hayden Homes, Ken Brodeck of Bend has been promoted to president of the Northwest home building company.
Brodeck joined Simplicity in 2011 and has successfully grown the subsidiary of Hayden Homes from a staff of eight to 36 while overseeing a unit growth of 640 percent in that 5-year period.
Simplicity by Hayden Homes is an on-your-land homebuilder for customers looking to build custom homes or tiny homes on their existing land. Simplicity also constructs farmworker housing units and provides investor building solutions that range from ADUs and cottage communities to single-family subdivisions and multi-family housing projects.
"Based on our partnership between Simplicity and Hayden Homes there is now a cost-effective solution for landowners in rural communities throughout the Northwest to build a custom home or investment property on their own land. Ken's longtime leadership and experience in the homebuilding industry coupled with his dedication to providing an outstanding customer experience will continue to propel the company forward for years to come," said Dennis Murphy, CEO of the Redmond, Ore.-based Hayden Homes.
As president of Simplicity, Brodeck will lead and oversee the company's vison, budgets, financials and new business development in Oregon, Washington, and Idaho.
Originally from the Puget Sound area, Brodeck attended Washington State University and began his career as a residential builder. He is an alumni of Harvard Business School's Executive Education PLD program. Later as a construction manager for a single and multi-family residential homebuilder, he was responsible for broad scale project planning, oversight of construction teams, coordination of trades and financial management of multiple projects.
In 2005, Brodeck established a successful speculative and custom homebuilding company in Central Oregon before joining Hayden Homes in September 2011.
About Simplicity by Hayden Homes
Simplicity by Hayden Homes is an on-your-land homebuilder, offering a broad range of residential housing options from custom homes to tiny homes on a customer's existing land. Simplicity also constructs farmworker housing units and provides investor building solutions that range from ADUs and cottage communities to single-family subdivisions and multi-family projects. For more information, visit http://www.simplicity-homes.com/.
 About Hayden Homes
Hayden Homes, the largest privately held homebuilder in the Northwest, has been building high quality value-driven homes throughout the Northwest for nearly 30 years. The organization supports local communities by employing local contractors and vendors and contributing annually to philanthropic efforts in the communities in which they build.  In 2015, Hayden Homes contributed more than $2 million to charitable donations with the flagship of their giving through the 501C3 Non-Profit, First Story (www.firststory.com).  The Hayden Homes brand family of companies – Simplicity by Hayden Homes (www.simplicity-homes.com), Wise Size Homes (www.wisesizehomes.com) and Hayden Homes (www.hayden-homes.com) – have built in over 300 communities and in 65 cities and towns throughout Washington, Oregon and Idaho.
---